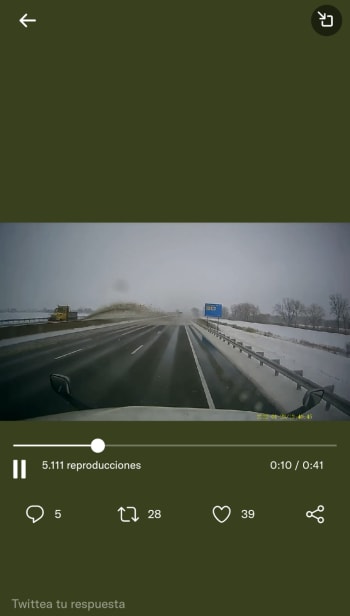 Conductor de maquina quitanieves causa aparatoso accidente, hubo 40 autos involucrados
Aparatoso accidente en Ohio.
Maquina quitanieves crea fuerte choque.
Doce personas resultaron heridas.
Máquina quitanieves provoca choque. Un hecho totalmente impactante ocurrió en Ohio Turnpike en el condado de Erie el domingo por la tarde, pues un hombre que conducía de las máquinas encargadas de retirar la nieve del pavimento ocasionó un aparatoso accidente en donde se vieron involucrados 40 autos, de acuerdo con el portal de The Sun aseguran que al menos doce personas resultaron heridas.
Las temperaturas bajaron a -7.2°C  lo cual provocó que el suelo se llenaran de nieve, mientras los conductores transitaban una de las carreteras del condado de Erie, un hombre que conducía una máquina quitanieves de un momento a otro ocasionó un fatal accidente. El video se ha difundido en Twitter y se muestra como el conductor del equipamiento para retirar la escarcha arroja grandes cantidades de nieve endurecida y aguanieve.
Gran accidente en una carretera de Ohio Turnpike
Michael Lemon, fue uno de los conductores que filmó las notables imágenes en su dashcam, por lo que expresó para 3WTKR  lo siguiente: "Nunca había visto algo así. No supe cómo reaccionar. "Estaba estupefacto de que alguien pudiera ser tan imprudente". The Sun informó que al menos 40 autos se vieron envueltos en el incidente.
En el portal de The Sun comentan que fue alrededor de la 1:46 p. m., hora local, cuando la Patrulla de Caminos del Estado de Ohio recibió llamadas de emergencia reportando el incidente y respondió a los carriles hacia el este de la autopista de peaje de Ohio entre la ruta estatal 4 y la ruta estatal 250, de acuerdo a lo que el sargento, Rey Santiago, argumentó.